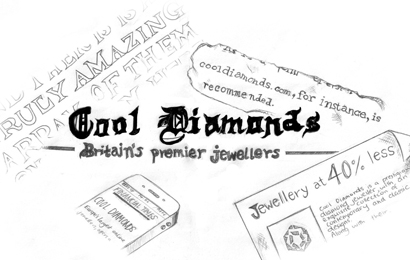 Financial Times how to spend it - July 2015.
Now the online market has somewhat normalised and the businesses that remain are stronger. These include diamond specialists such as Cool Diamonds.
BBC World Service - 20 September 2011.
Radio interview by Mike Johnson - BBC World business report.
'This shop is called Cool Diamonds and there is a truly amazing array of them on sale here.'
FINANCIAL TIMES - 22 November 2003
Diamonds can now even be bought over the internet www.cooldiamonds.com, for instance, is recommended.
Wall Street Journal - March 9 2012
While there are reputable websites that offer savings of up to 50%, such as Cool Diamonds (www.cooldiamonds.com), which come fully certified, it is always advisable to see a gem before you buy.
Sunday Times - February 2003
Web shopper: All because the lady loves...
High rollers might prefer www.cooldiamonds.com... The sky's the limit on price, as you can commission a ring with the size and quality of rock you want.
FINANCIAL TIMES - 29th May 2008
'The key to their success is delivering a superior online customer experience. For example, Fortnum & Mason, Harrods, and pure-play online retailers such as Cool Diamonds, have integrated shopping experiences across all their channels.'
FINANCIAL TIMES - 1st September 2007
'Cool Diamonds, Europe's largest online jewellers, offers a complete bespoke service.'
The OBSERVER - 27th February 2005
For designer diamond jewellery at 40% less than the high street, check out www.cooldiamonds.com ...Europe's largest online jeweller.
Vogue - March 2003
This season, well known designer names are applying their talents to Jewellery... Jasper Conran has set diamonds into a modern V-shaped brooch. White gold and diamond V pin by Jasper Conran, £3,575. Diamond flower ring by Versace, £26,030. Both at Cool Diamonds.
Channel 4 - 1st January 2003
Cathy Shipton on 'Girls who Shop'
'I have an Amanda Wakeley dress on and a Cool Diamonds necklace worth 70 grand...'
THE TIMES - 20th July 2005
This is Europe's largest online jewellery site, where there's more choice than ever before. Cool Diamonds has spent five years revolutionising the way in which we buy diamonds. Its secret lies in the choice on offer.
Marie Claire - January 2009
'10 Best Engagement Rings'
Cool Diamonds Juliet, £1913 This crystal-clear round cut diamond will definitely appeal to the magpie in you, with its showy shoulders and simply stunning centre stone. And the biggest plus point? It's less than £2,000! Snap it up - now.
HELLO! - May 14th 2002
Diamonds are the latest to join the internet revolution with Cool Diamonds, Britain's premier diamond jewellery web site. Cool Diamonds' in house team of graduate jewellery designers are able to produce whichever piece of jewellery you desire, at any price you wish to pay. Prices are normally 40% cheaper than the high street, with all gems independently certified with a ten day money back guarantee.
Victoria and Albert Museum - January 2005
Many congratulations on the extraordinary complex you have created for your headquarters. It was a revelation to see the state of the art in contemporary diamond jewellery, fascinating in every detail, from laser welding to the superbly designed web pages. What you have achieved provides a brilliant update on the latest developments (Letter to Cool Diamonds from Richard Edgcumbe, senior jewellery curator at the Victoria and Albert museum).
Evening Standard - 1st July 2003
Cool Diamonds is the largest internet-based jeweller in Europe, from their office in Hatton Garden London's jewellery district.
Sunday Times - 14th October 2001
(from 'My Best Buy' - Jane Knight tells Simon Crerar where she found the earrings of her dreams.)
'I saw an advert in Vogue promoting the web site cooldiamonds.com which promised substantial savings... The earrings were beautifully packaged, everything about them impressed me... I wear them almost daily.'
Vogue - November 2001
( from 'ice, ice baby' by Christa D'Souza)
'Rocks, sparklers, ice, bling-bling: diamonds have always been desirable, but now they're highly fashionable too... Cooldiamonds.com, one of the snazzier diamond web sites... boasts a special 3-D gallery where you can look at the diamonds you want to buy from every angle before pressing the Purchase Now button.'
In Style - February 2003
Wear the Cartier Tank watch he gave you for a wedding present, and keep your fingers crossed for an eternity ring (hint to the boys; try Tiffany & Co. or cooldiamonds.com).
Vogue - July 2010
Central Saint Martins and Cool Diamonds have unveiled the winner of their 2010 Jewellery Award. Mayuko Yamamura beat four finalists to win the 2010 Cool Diamonds Jewellery Award with her elegant diamond necklace design.
Independent on Sunday 26th June 2005
Conran has become increasingly successful and in demand because of his diverse deign work and collections, including crystal for Stuart, china for Wedgewood and baubles for Cool Diamonds
Brides Magazine - July/August 2001
'Cool Diamonds is a prestigious diamond jeweller with an exquisite collection of contemporary and classic designs, also offering a bespoke service on request.'
The Business - November 10th, 2002
Internet site, www.cooldiamonds.com selling stones in settings made by Jasper Conran and Versace. Their sales have doubled this year and trebled in 2001.
Internet Investor - October 2000
' www.cooldiamonds.com - an excellent site... the navigation is clear, and the prices are certainly better than High Street prices. Its special offers are particularly attractive, although you have to be quick off the mark so its worth subscribing to its preview of sale goods. '
For The Bride - September/October 2004
Online jeweller www.cooldiamonds.com offers an inspiring service where you can have a diamond ring made to your particular specifications or choose from the collections of Jasper Conran and Versace.
Mail on Sunday - 29th April 2001
Amanda Holden, the actress is pictured on the front cover of the magazine wearing a selection from Cool Diamonds.
Channel 5 in conjunction with Cosmopolitan - 4th June 2003
Company director, Michel Einhorn interviewed on Channel 5 in program in conjunction with Cosmopolitan entitled '50 ways to please your lover'.
Bliss For Brides - February/March 2001
'What better time than Valentine's Day to choose your engagement ring - or a matching wedding ring? Log on to www.cooldiamonds.com for a choice of over 72,000 different design permutations. All diamonds are certified and come with a ten-day money back guarantee.'
Metro - 3rd. Nov. 2008
'Tips to crack the credit crunch... The Rings: Cool Diamonds in London where you can choose engagement rings at almost trade prices. Diamonds are certified and conflict free.'
You and Your Wedding - March 2003
If you buy online you can save up to 40% on high street prices, which has to be good for the man in your life! Check out www.cooldiamonds.com
Nine to Five - 8th August 2001
'The price of diamonds means its hard for them to be a girl's best friend, unless that s you log on to www.cooldiamonds.com, where diamonds sell at 40% of the high street price... '
The Sunday Times Doors - 4th February 2001
' This site has a vast range of options, not all requiring a second mortgage... items come with a diamond certificate and a 10-day money back guarantee. '
Brides - July/August2001
[Of the Cool Diamonds naval stud] 'The sun lover's engagement ring, at www.cooldiamonds.com from £155. '
More! - August 22nd 2001
Fashion Addict: 'When we met pop diva Kylie Minogue recently, she divulged a secret - she really loves a sparkler! So if you fancy a touch of luxury, check out www.cooldiamonds.com... Go on, put some sparkle in your life!'
Wedding Journal - Summer 2001
'Looking for a ring but can't be bothered with busy stores, pushy staff and hiked prices? Then you should visit www.cooldiamonds.com where you'll find a stunning collection of diamond engagement rings... '
You and Your Wedding - January/February 2001
' You don't even have to get out of bed to find fabulous diamonds, simply log on to www.cooldiamonds.com where there is something to suit every taste and budget. You can even create an engagement ring that is unique to you. '
Wedding and Home - February/March 2001
' Diamonds are Forever - since Posh and Becks tied the knot, wedding ring trends have leaned towards diamond encrusted styles and the... website www.cooldiamonds.com is the best place to shop for them. All diamonds are certified and come with a 10 day money back guarantee. '
The Net - January 2001
'Diamond earrings - £150. Prices range from £90 to half a million, so whether you're a student or a tycoon there should be something suitable.'
Compass - June 2001
'Sparkle Plenty - Diamond Tennis Bracelets from Cool Diamonds look absolutely smashing. The bracelets contain 38 VS1 clarity diamonds each in a rubover setting, available in 18ct yellow or white gold and platinum.'
Daily Express - June 14th 2000
' Net based Cool Diamonds slash up to 40% off High Street prices.... Prices start from £90, rising to an Elizabeth Taylor sized £500,000 and buyers can use the interactive website to choose the size, grade and design of the diamonds they wish. '
OK! - December 2000
' In the picture, Amanda [Holden] wears a £245,000 bracelet from www.cooldiamonds.com '
Evening Herald - 10th february 2001
' Log on for loving gifts... if it is diamonds you are wanting, then go to the online experts. www.cooldiamodns.com really know their brilliant cuts from their solitaires. A hip'n'funky trinket for your tummy is also on sale. The diamond navel studs help create a truly beautiful belly. '
In Style - October 2000
' A girl is not properly dressed without a diamond glittering about her person... so why not go one step further with this bellybutton stud from www.cooldiamonds.com? '
Ladies First - June/August 2001
' Dare to bear with a real diamond flashing in your naval... try www.cooldiamonds.com'
Society Magazine - June 2000
' This site offers the opportunity to buy a rock that sparkles and gleams with more style than a disco glitter ball.... the site offers the viewer an extensive collection at a fraction of the High Street price. It also enables you to create a unique design that is not available in any shop. '
Internet Magazine - June 2000
' If you're goinf to do things properly, a rock the size of Gibralter will be required. Cool Diamonds sells a wide range of jewellery at about 40% less than high street prices www.cooldiamonds.com '
The Sunday Times Style - 10th December 2000
' Lisando ring in yellow gold with a 0.34-carat diamond from www.cooldiamonds.com '
OK! - May 2000
' ...help is at hand for the shy romantic man who doesn't have time to trudge up and own the High Street. Log on to www.cooldiamonds.com in the comfort of your own office and buy a spanking new diamond ring. '
The Sunday Mirror Personal - 31st December 2000
' Make a New Year's resolution: 'I must wear more diamonds'. The website www.cooldiamonds.com has just about everything from loose diamonds to designer jewellery at prices 40% less than most High Street stores. '